Lash Extensions and Facts About Extensions
Individual Eyelash Extensions: all with Silk Faux Mink Lashes and are a great treatment for time management as well as age management. You will no longer be a slave to mascara but will wake up to beautiful lashes that make the eyes look younger by drawing the attention away from fine lines and wrinkles around the eyes. Well-done Lash Extensions do this by showcasing the eye's beauty and sparkle.​
Classic Lash Extensions $225.00/1.5 Hrs.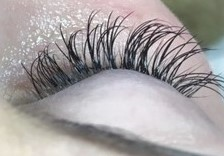 For those that want a more natural effect and to wake up to beautiful eyes with not having to slave over eye makeup. Adds mostly length approx 85% of Lash Line and is perfect for those who are younger and already have an ample amount of healthy natural lashes with no spacing. Opens up the eye and gives them definition much like mascara does only better. Natural Classic Fills: Approx 2 Weeks 60 Min.: $100.00
Natural Classic fills 3 weeks: 75 Min.: $125.00
Full set for a return client within 2 Months is $200.​00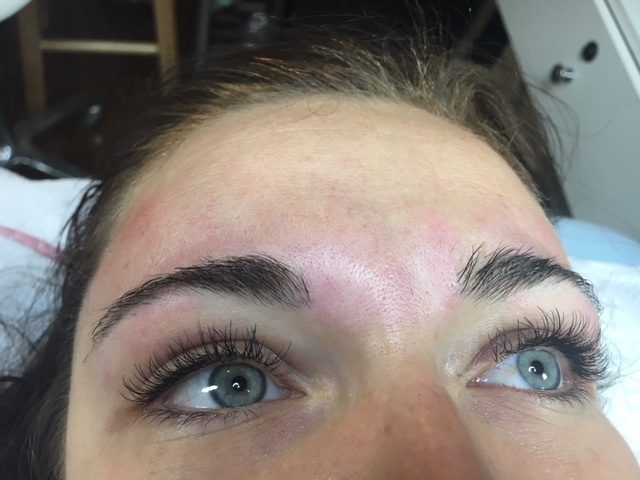 Hybrid Lash Extensions (Hybrid: a blend of Classic and Volume) A blend of Fullness and length
*Most popular because gives more Oomph with more fullness and length and is especially good for those who want a more dramatic look than with Classic Eyelash Extensions.
Hybrid Lashes:
Hybrid Eyelash Extensions $275.00/2 1/2 Hrs.
Hybrid Lash Fill:60 Min. :Approx 2 Weeks : $150.00 (60 Min)
Hybrid Lash Fill: 90 Min. :Approx 3 Weeks $175.00 (90 Min)
Full set for return client within 2 months is $250.​00
Volume Eyelash Extensions $350/2.5 Hrs.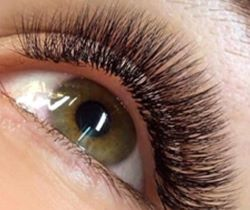 Gives a fuller, softer and more dramatic look. 3-4 individual extremely lightweight
high quality silk lashes are made at the time of service with special tweezers in a fanned technique to each
natural lash, creating an intense, fluffy and dark lash line.This look cannot be created with classic lash extensions. Increases
volume,thickness, provides more coverage and gives eyes a very youthful look. Also called "Russian Volume" and
is the newest eyelash extensions technique. ( volume,
length and thickness can be customized for each individual client).​
Volume Fills: in Approx 2 weeks 60-Min. $150.​00
Volume Fills:in Approx. 3 weeks 75 Min. $180.00
Full Volume set for return client within 2 months $250.00
Bottom Lashes $60.00
Lash Extension removal $ 50.00
Lash Lift $85.00 Gives your own full lashes a beautiful curled, lifted and full look that will lasts up to 8 weeks
Lash tint $20.00 Wake up to dark, full and beautiful lashes
Brow Tint $25.00, 15.00 with a facial. Match brow color to your roots with a temporary tint. Results last up to 4 weeks.
Lash and Brow Tint: $40.00
NEW: Henna Brow Tinting: Lasts 4-6 weeks.The Next Generation In Eyebrow Tinting, helps to strengthen hair, promote growth & restore the natural shape and condition of the eyebrows. Stays On Hair up to 6 Weeks Vegan & Cruelty Free $60.00
Brow Full Service Gentle Brow Waxing: $ 40.00
Return Brow Service Gentle Brow Waxing $ 35.00
​
Lash Facts:
What are the different services that you provide?
Lash extensions
Classic; 1 extension to 1 natural lashes
Volume; 2 to 6 light-weight lashes made into a fan placed on one natural lash
Eyebrow and Eyelash tinting
Facial Treatments & Facials
Diamond Micro-dermabrasion with LED
Multi-Wave Micro-current-The best microcurrent for beautiful and long-lasting results.
Facial Waxing
Facial Hair Tinting
How often do I need a fill?
You lose between 2 - 4 lashes per day per eye.
You will need a Lash Fill between 2 - 3 weeks depending on how many natural lashes you have.
​
Are these going to damage my natural lashes?
Not if it's done by a licensed, trained professional that is careful and experienced. One extension should go on one natural lash, which allows your natural lashes to grow properly with the adhesive applied very carefully and precisely with the natural lash taken into account as to not to over weigh it. It is most important to choose the correct size and weight and match the natural lashes as closely as possible because If one has light fragile lashes the extensions will need to be a little lighter as to never overweigh the natural lash. But if one has healthier and thicker or longer natural lashes, the extensions will be chosen accordingly. In either case, lash extensions will make the most out of the natural beauty of the eye.
In the case of Volume Lash, 2-4 very light lashes that are fanned out at the time of service are carefully placed on one individual lash. Because the lash extensions that I use for fans are not pre-made but made at the time of service and are silk and very lightweight, they will by no means hurt your natural lashes and most clients comment that they have never had such light-weight lash extensions.
Signs of damage:
Consistent itching
Soreness
How Do I take Care Of My Lashes?
*Please look at the Lash Extension Before/After and the Aftercare Page for more information.
*For Classic Lash Extensions, do not get your lashes wet for the first 6 hours (I have a special process that cures them within 6 hours unlike most lash artists that will tell you 12-24). For Volume Lash Extensions you must wait 24-48 hours before getting them wet. Also, avoid steam showers, facials, saunas and swimming pools.
*After showering or getting them wet be sure to dry the lashes off very gently by blotting with a soft towel.
*Use only water-based makeup & makeup remover. NO OILS!
*Using mascara shortens the life of your lashes so please avoid if possible. If you must use oil free mascara made specifically for Lash Extensions.
*Mascara should not be used with volume lashes. It closes the fans.
*Avoid rubbing, picking & plucking your eyelashes, this damages your natural lashes.
*Please see me to have them removed properly if for some reason needed.
*To extend the life of your lashes I ask that you come in for re-fills every 2-3 weeks.
Do you do Mink Lashes?
Mink lashes are just a kind of lash, not the actual service.
We choose not to use mink lashes because they lose curl after a while, like any natural hair fiber.
We do use light-weight synthetics that mimic mink lashes.
​
What Kind of Lash Extension customization can I get?
Choose color; black, different shades of brown or navy blue
Choose length (within the parameters of your own natural lash; we mix at least 3 lengths to get a natural look
Choose curl type; B,C, AND D
Choose dimension (how many dimensions do you want on a lash extension?)
For volume only, 2 dimensions or 2D is equal to 2 lashes per fan and you can get up to 6 very fine lashes on each hair if your natural lashes are strong enough.
Choose shape (I will gently guide you to get the best result.)
​